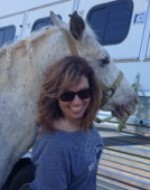 Kirsten
I believe it is my first grade picture where I'm smiling and showing off a black front tooth. That moment marks my years of strategically hiding my smile.
Distance was my favorite approach when getting my picture taken but there were times when I had to think fast, twist, turn, and pray that the picture wasn't front and center. I loved when the cameraman would say, " move closer together!" that was my key to duck half way behind a friend's head and relish the moment. So for years I was throwing numerous pictures in a box and remembering only the memories of those special occasions, vacations, celebrations, weddings, parties, etc. because I hadn't taken one good picture since that dreaded first grade photo. Ironically, that picture became a fast favorite over the years.
It wasn't until I was in my forties that I had a consultation with Dr. LaNeve to discuss my options for making my smile even, bright, and beautiful. Dr. LaNeve and the entire staff welcomed me to the practice and I was impressed by the time and attention they gave me. Dr. LaNeve gave me an overview of potential next steps based on my personal goals. This moment defined my future and was the beginning of a huge transformation in my life that allows me to laugh out loud, smile, and be photographed anytime now!
I think it was less than 2 hours after my smile was corrected that I took my first picture. After years of hiding behind plants, people, objects, anything that would block the right side of my mouth, I had a picture that was worthy of being posted on Facebook! Yep…..I didn't have to run the photo through Instagram to play with the lighting, add a haze, crop my smile, I had a photo that could be posted as is! So after years of being at war with a camera I began to take pictures everywhere. There were times where I would push the kids out of the way (I already had millions of pictures of them) because I quickly began to love every picture. I was a photogenic super model and didn't know it!
So if anyone is considering making an investment in their smile, you need to call me because this is one of the best decisions I made……EVER! My smile has allowed me to be the person I always was but with the confidence, pizazz, and joy that was missing in all those photos for years and years and years. Today there isn't a day that goes by where I don't smile.
Dr. LaNeve's dedication to perfection and quality was very evident during the entire process. The moment that I returned to work no one noticed that I had gotten my teeth done because they looked so natural. People noted something was different but they couldn't put their fingers on it. I was pleasantly surprised and even today it is one of my best kept secrets!