Our practice accepts insurance from the following companies.

Delta Dental - Premier
Delta Dental Plans Association is a not-for-profit organization with some for-profit affiliates as member companies. Through its 39 independent member companies, it offers national dental coverage to our Tulsa dental patients - administering programs and reporting systems that provide employees and individuals with quality, cost-effective dental benefits and superior customer service.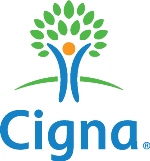 CIGNA
CIGNA offers a variety of dental plans and dental insurance to our patients, including CIGNA Dental Care (DHMO), CIGNA Dental PPO or CIGNA Traditional.
Dentures that look great and last
If you're looking for dentures that look great and last, look no further than Payas Dental Restoration located in the Tulsa, OK area. Glenda Payas, D.M.D. will assess your needs and fit you with durable, comfortable, natural-looking dentures - at a price you can afford.
Variety of payment options available
There are a variety of payment options available to our valued patients. Payas Dental Restoration accepts debit cards, credit cards, checks and cash, and even offers convenient monthly payment plans for those who qualify. Call our Tulsa area dental office today to discuss the right financial options for you.
Oral conscious sedation: turn many appointments into one
With oral conscious sedation, Tulsa area sedation dentist Glenda Payas, D.M.D. is medically able to attend to your dental needs for a longer period of time. This means you can combine all or many of your dental appointments into one. If you are in need of extensive dental work or multiple treatments are necessary, oral sedation dentistry may be the most efficient and hassle-free option for you to consider.
Fix chips, cracks and stains
A beautiful smile can brighten your life! If you are continuously hiding your chipped, stained, or cracked teeth from others, it's time for a change! Glenda Payas, D.M.D., a trusted Tulsa area dentist, can fix chips, cracks, and stains to reveal a great new smile - and a new you. You'll look so good you'll wonder why you waited so long!
In-office whitening for quick results
Would you like a whiter smile right now? In the Tulsa, OK area, Payas Dental Restoration offers in-office tooth whitening for quick results. Dr. Glenda Payas applies a bleaching solution to your teeth which is then accelerated by a high-intensity light. Teeth can often be whitening in one or two one-hour sessions - perfect if you're looking for a quick and easy way to brighten up your smile.